Home Insurance California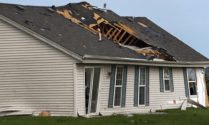 House is the basic necessity of every family. In California, incidents such as damages due to natural disasters, theft, fire, or other reasons could lead to massive loss for a home owner. Getting a proper insurance coverage from an esteemed California home insurance company, such as Rais Insurance will help you re-build your home, if any such incident occurs.
Rais Insurance is a highly trustable California home insurance provider, which can help you and your family on account of home damage crisis. We have cheap home insurance plans are suitable for every property.
Why Us?
At Rais Insurance, we offer homeowner insurance policies as per your family's needs. Our insurance coverage packages are effective. Our California home insurance agent can help you devise just the appropriate plan, in order to help secure your family and assets.
With our experienced home insurance agents in California, Rais Insurance excels in offering homeowners insurance. Rais Insurance not only understands your requirement, but also the insurance plan that would fit your needs. We provide cheap home insurance quotes to fulfill our client requirement.
Our customized plans also include add-ons as per your specific requirement, in order to cover the cost of the home building and other valuables, which might get damaged due to any reasons.
If you're looking for a home insurance specialist in California, then Rais Insurance is the right choice. Call now, to get your home insurance rates.