Life Insurance Agent California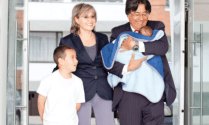 Life insurance is a critical investment. It is very important for your life insurance provider to consider your needs. In California, getting a life insurance quote in proportion to your financial planning goals could be a task. While most will suggest you to opt for a policy with expensive premium, Rais Insurance is a California life insurance specialist which understands that your valuable investment is worth.
As a consumer, you would be spending substantial amount of money each year on family life insurance plans  without having proper information about the sum assured and details. Rais Insurance believes in keeping maximum transparency, when it comes to insuring your life.
Why Us?
Being a reputable California life insurance provider, Rais Insurance provides you with the most suitable policy fitting your needs and helps compare life insurance policies. Our agents ensure maximum yield from the policy that you're willing to invest. Life insurance policy varies with your age and responsibilities. Usually, the amount of insurance also depends on the standard of living of your dependents.
Our expert insurance agents in California ensure that you invest into a policy which gives returns for meeting the needs of your dependants. A standard life insurance requires balance. Getting over-insured could negatively impact your future financial goals, just the way being under-insured can. IT always advisable to get yourself insured from a reliable life insurance provider, who not only helps you assess your needs based on various factors.
Rais Insurance provides both the term policy and permanent policy. The permanent life insurance insures the entire life of the policy holder, which means it won't expire till you're paying the premiums. In case of term life insurance, payout is guaranteed if the death of the insured
occurs within the time-period specified in the policy.
Both types of life insurance policy plans  have their own benefits. In order to get a consultation, schedule an appointment with our agents, who'll help you through the process.
Talk to our one of our agents now to discuss about Life Insurance. Or, you can get a quote by sending your information below: